Los consumidores de estas boutiques adquirieron la tradicional Infinity Scarf desde el muro de la página de la firma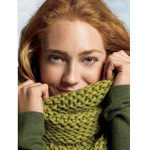 ESTADOS UNIDOS.– La agencia Resource Interactive desarrolló una aplicación de e-commerce para Facebook, ésta permite que los usuarios realicen sus compras en el muro de una página de esta red social. Esta solución web y comercial lleva el nombre de Off The Wall.
Más notas relacionadas con Facebook y las marcas de moda:
Ermenegildo Zegna inaugura perfil en Facebook
Burberry confí­a en la web 2.0
Adidas Originals: de la promoción viral al punto de venta
Resource Interactive cuenta con una cartera de clientes como Victoria's Secret, Burton, HP y The Limited, sin embargo, ésta última marca fue la interesada en la innovación y le solicitó a la agencia que la aplicara en su Facebook Page para la venta de Infinity Scarf, una bufanda de edición limitada.
Los resultados logrados por la firma de moda se tradujo en un incremento de ventas.