THE DAILY SHOW PRESENTS: THE DONALD J. TRUMP PRESIDENTIAL TWITTER LIBRARY
Marca: COMEDY CENTRAL
Producto: THE DAILY SHOW WITH TREVOR NOAH
Compañía: COMEDY CENTRAL New York
Agencia: 23 STORIES X CONDE NAST New York / COMEDY CENTRAL New York
País: USA
Descripción: La campaña consistió en una experiencia inmersiva, que cobró vida mediante pantallas estáticas, digitales, interactivas y físicas. Los participantes se sentaron en el "trono" dorado del presidente de Estados Unidos, Donald Trump, y dentro de la Oficina Oval juegaron juegos móviles, recibieron apodos personalizados de Trump a través de una aplicación personalizada.
Además, se desarrolló un recorrido virtual 360º a través de un portal especial para alcanzar a los fanáticos que no pudieron asistir en www.thedailyshow.com/trumplibrary
ON YOUR LEFT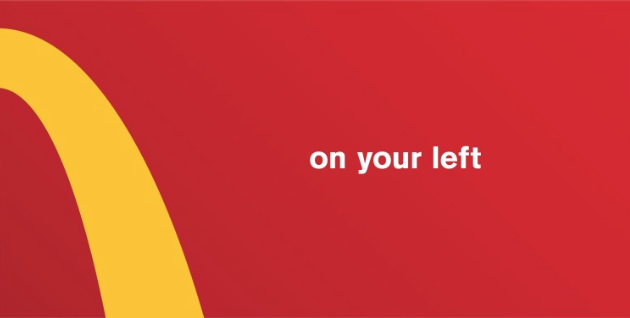 Marca: MCDONALD'S RESTAURANTS OF CANADA LIMITED
Producto: MCDONALD'S RESTAURANTS OF CANADA LIMITED
Compañía: COSSETTE Toronto
Agencia: COSSETTE Toronto / MCDONALD'S Toronto
País: CANADA
Descripción: McDonald's es una de las marcas más reconocibles del mundo. Sin embargo, a donde sea que vaya, desde las ciudades más importantes a las ciudades pequeñas, el consumidor encontrará letreros que le lleven al McDonald's más cercano. El objetivo de esta campaña fue unificar el diseño de estos signos para ser utilizados en cualquier lugar.
ON YOUR RIGHT
Marca: MCDONALD'S RESTAURANTS OF CANADA LIMITED
Producto: MCDONALD'S RESTAURANTS OF CANADA LIMITED
Compañía: COSSETTE Toronto
Agencia: COSSETTE Toronto / MCDONALD'S Toronto
País: CANADA
NEXT EXIT
Marca: MCDONALD'S RESTAURANTS OF CANADA LIMITED
Producto: MCDONALD'S RESTAURANTS OF CANADA LIMITED
Compañía: COSSETTE Toronto
Agencia: COSSETTE Toronto / MCDONALD'S Toronto
País: CANADA
Ganadores de Grand Prix en Cannes Lions
A continuación te mostramos a todos los ganadores de Grand Prix:
| | | | | | |
| --- | --- | --- | --- | --- | --- |
| CAMPAÑA | MARCA | PRODUCTO | COMPAÑÍA | PAÍS | AGENCIA |
| THE DAILY SHOW PRESENTS: THE DONALD J. TRUMP PRESIDENTIAL TWITTER LIBRARY | COMEDY CENTRAL | THE DAILY SHOW WITH TREVOR NOAH | COMEDY CENTRAL New York | USA | 23 STORIES X CONDE NAST New York / COMEDY CENTRAL New York |
| JUST MISSED US | MCDONALD'S RESTAURANTS OF CANADA LIMITED | MCDONALD'S RESTAURANTS OF CANADA LIMITED | COSSETTE Toronto | CANADA | COSSETTE Toronto / MCDONALD'S Toronto |
| ON YOUR LEFT | MCDONALD'S RESTAURANTS OF CANADA LIMITED | MCDONALD'S RESTAURANTS OF CANADA LIMITED | COSSETTE Toronto | CANADA | COSSETTE Toronto / MCDONALD'S Toronto |
| NEXT EXIT | MCDONALD'S RESTAURANTS OF CANADA LIMITED | MCDONALD'S RESTAURANTS OF CANADA LIMITED | COSSETTE Toronto | CANADA | COSSETTE Toronto / MCDONALD'S Toronto |
| ON YOUR RIGHT | MCDONALD'S RESTAURANTS OF CANADA LIMITED | MCDONALD'S RESTAURANTS OF CANADA LIMITED | COSSETTE Toronto | CANADA | COSSETTE Toronto / MCDONALD'S Toronto |